Multi-Color Leather Hide 3.0 oz -Cowhide 35.5 sq.ft with Branding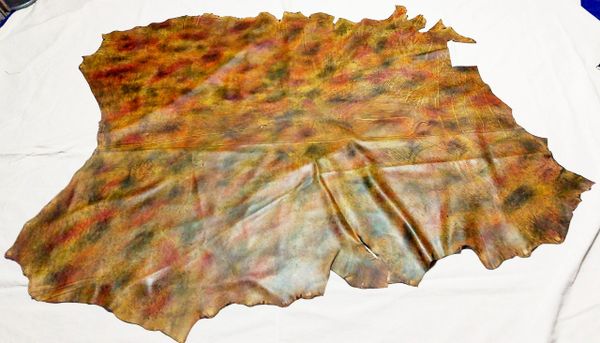 Multi-Color Leather Hide 3.0 oz -Cowhide 35.5 sq.ft with Branding
100% Genuine Cowhide: Multi-Color
This artistic print on premium top grain cowhide is soft and supple. Its medium sheen finish over the lightly pebbled grained texture enhances the full spectrum of rich colors on display in this hide. This hide speaks "as is" or as functional leather. Durable with an approx. weight of 3.0 oz/sq.ft and 1.2mm thickness.
·Name: Multi-Color Camou
·Color: Multiple Colors
·Size: Approx 35.5 sq.ft (79"L x 71"W)
·Texture: Pebble Grain
·Finish: Medium Satin Sheen
·Feel: Soft and Supple
·Quality: Premium
·Approx Weight: 3.0 oz /sq ft
·Approx Thickness: 1.1 - 1.2mm
This hide can be used for a wide range of things. Some are listed below:

*Bags *Book Covers/Marks *Boots *Bracelets *Coats *Corsets *Costumes* Firearm Cases *Gloves/Mittens *Handbags *Hats *Hat Bands *Home Décor *Jackets *Jewelry *Light Weight Chaps / Chinks *Light Weight Straps *Light Weight Moccasins *Pillows *Purses *Shoes *Table Runner
*Tablet Sleeves *Upholstery *Vest *Watch Bands *Wrist Bands… and much more.
**Pictures may differ to reflect more of products details, but the first picture is the best representation of the item.

Note: Hide may be shipped rolled or folded depending on its stiffness ("Firm" and "Stiff" full hides will ship rolled). Will ship within 3 business days of receiving cleared payment.