Brown Haze Leather 50.3 Sq.ft Hide (Brwn Hz/Choc)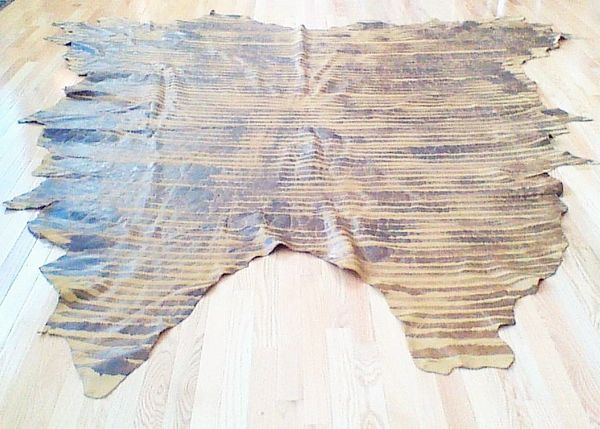 Brown Haze Leather 50.3 Sq.ft Hide (Brwn Hz/Choc)
Brown Haze Hide 7'3 X 6'9 (50.30 Sq.Ft / 82.5"x 88
")  
·Name: Brown Haze  
·Color: Dark Brown/Golden Honey
·Size: 7'3 X  6'9  (50.30 sq.ft/ 82.5"x88")
·        101"W x 111"L  *Actual measurements from longest points
·Texture: Smooth
·Finish: Medium Sheen
·Feel: Soft W/Light Wax
·Quality: Premium Full Grain
·Approx Weight: 2.5 oz / sq ft
·Approx Thickness: 1.2 – 1.3 mm
This beautiful two color genuine leather cowhide is exceptional in its feel, color and quality. This leather is slightly firm, but flexible and softens with use.  
This hide has many uses, some of which are listed below:
*Bags     *Book Covers/Marks   *Boots   *Bracelets     *Coats      *Corsets     *Costumes  *Firearm Cases   *Gloves/Mittens        *Handbags     *Hats    *Hat Bands  *Home Décor    *Jackets      *Jewelry     *Light Weight Chaps / Chinks     *Light Weight Straps  *Light Weight Moccasins      *Pillows    *Purses     *Shoes     *Table Runner     *Tablet Sleeves *Upholstery *Vest     *Watch Bands      *Wrist Bands…     and much more. 
**Pictures may differ to reflect more of products details, but the first picture is the best representation of the item.
Note: Hide may be shipped rolled or folded depending on its stiffness ("Firm" and "Stiff" full hides will ship rolled). **